Molluscan Science aims to promote the study and fascination of seashells in schools. 
​How can we trigger fascination and admiration for nature in a kid that grows up with tablet computers and virtual reality?
At times when children are brought up in a semi-sterile, urban environment, in a society that is more and more estranged from nature, it is important to raise an interest in the environment and conservation in the next generation. We have launched a teaching unit for 6th graders to trigger fascination and the awareness for nature, with "shells in hands."
The concept is to put seashells into the hands of the kids, along with "Flash-cards" summarizing many of the interesting facts about the respective shells. A poster will sum up the information about seashells, and the teacher will conduct lessons for the kids ranging from merely admiring the shells in their hands to the habitats they live in, their vulnerability, and the necessity to protect them. 
How can each of us contribute to protecting the seas and all of our planet?
Some examples given, such as "don't litter," or "don't waste water." Towards the end of the lesson, which are scheduled to last approximately two hours, the students are asked to contribute with their own ideas what each of us can do. The uniqueness about the seashells is that they can be handed out to kids without any danger of allergic reactions or whatever may be considered a threat in class.
Yet, they transport all of the fascination that are inherent to them: the deadly poisonous barb of the Cone shell, the healing powers its toxins may have for us, the shiny cowries that were used as currency some 4,000 years, and the trick of how river mussels use fish to carry their larvae. With these fun facts in mind, the kids can return home with information their parents do not have. The lesson encourages them to gain more information, and to make their own observations.
Our plan is to test this teaching unit in schools and work together with teachers to fine-tune the concept. This is currently being used in multiple grade schools as part of their curricula and being evaluated. If the program is successful in the USA, it can be converted to be used in other countries.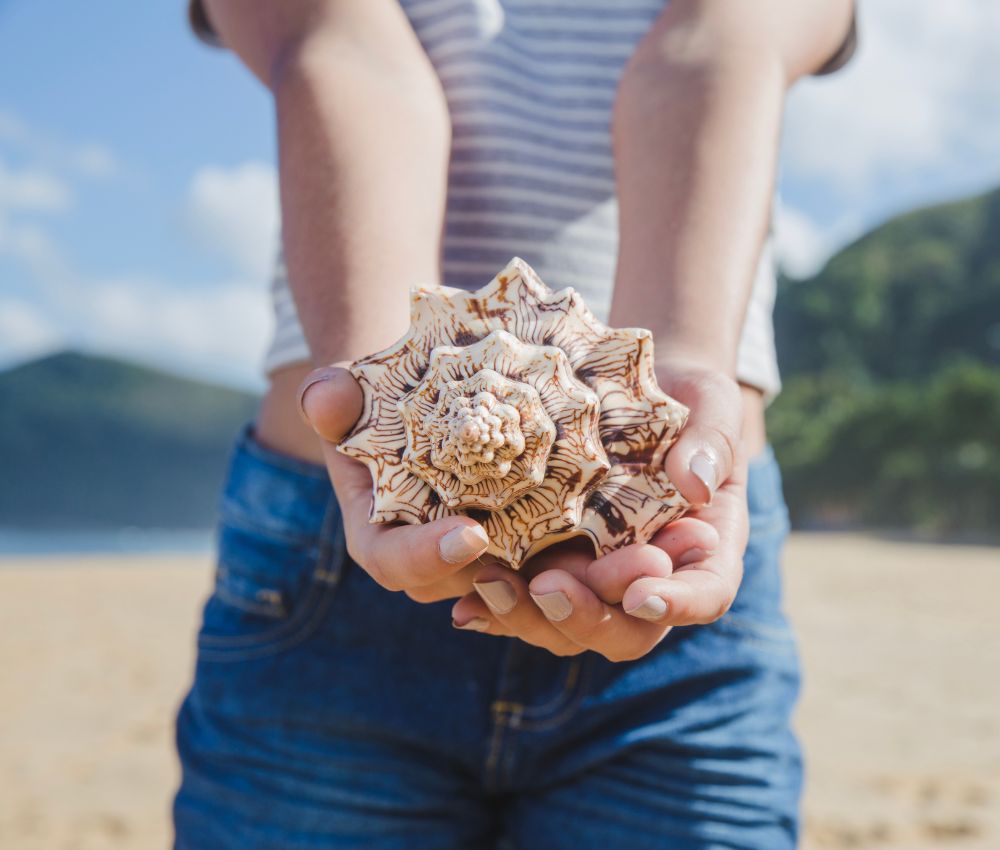 Our Flash Cards summarize many of the interesting facts about the respective shells.
Our poster summarizes the information about seashells and looks great in any classroom.
"Good Morning Dr. Mont, Lou, and the rest of the Molluscan Science Foundation team. I wanted to take a moment and thank you for the learning opportunity you provided the zoology students at William Chrisman High School in Independence, MO. The mollusk shells you gave us provided a fun introduction for the students into the world of mollusks. The students were challenged to either make a catalog, dichotomous key, or a phylogeny to present to you all. The challenge in this came from the students only having access to the materials provided in the box (the cards and the shells) no other identification guides were given. This project required them to utilize research, critical thinking, and creativity to create their projects.
This project was wonderful and the resources you have added to my classroom are amazing, thank you so much. If you have any other shells you are looking to rehome they are welcome in my classroom. I am looking to expand this learning opportunity for future sections of my zoology class, so if you know of any good places to get shells from, I would love to know about that."
Alex B. | William Chrisman High School
"Thank you for sending our class a box of shells to be able to learn and comprehend Mollusca, I'm now able to identify different types and function of each one. This is going to pursue an education and hopefully because a member of your foundation. From: A future Molluscan scientist."
Carllie S. | Student
"The shells we were given from you guys were awesome. I loved the diversity of the shells and being able to learn/see them with my own hands. There are some shells I didn't even know existed.
Wildlife has always been an interest of mine and mollusks so happen to be one of my favorite types of animals. So unique and alien-like to me, but having this chance was great and I am extremely grateful for this foundation.
P.S. I am an artist and would like to draw a shell to return the favor of you guys sending my class some! I would absolutely love to if you guys don't mind. I can email some of my work as well if curious."
Garry M. | Student
"Thank you for providing shells for our studies and research projects! It was a great opportunity to get some hands-on learning and examinations. It was really cool to get to experience the mollusks we are learning about up close. The informational cards that came with the shells were also a great addition. It definitely helped me improve my research and better my understanding on the life of these animals."

Lily M. | Student
"Thank you Molluscan Science Foundation for giving me and my classmates the opportunity to use 21 shells and learn many different things about them. I think it was really fun learning where they can be found, their shapes, and why they're important. I thought it was very interesting that there are so many and how some are alike and others are completely different. This was an exciting activity and I would definitely recommend learning about shells to other students."

Connor M. | Student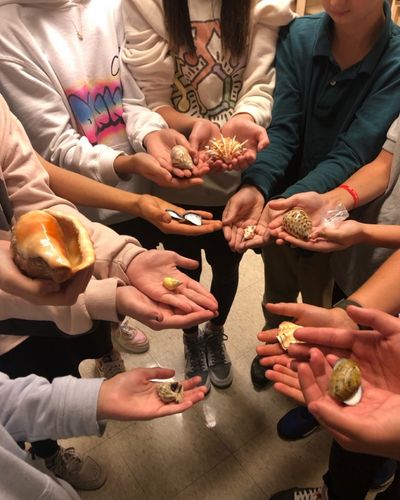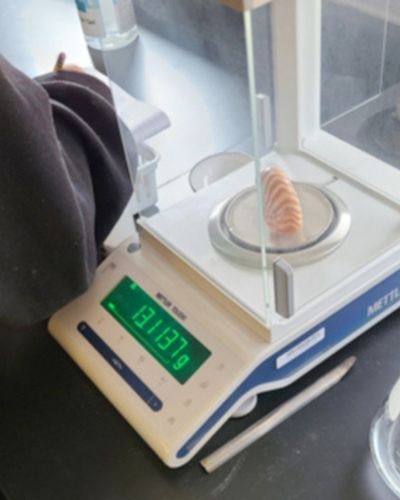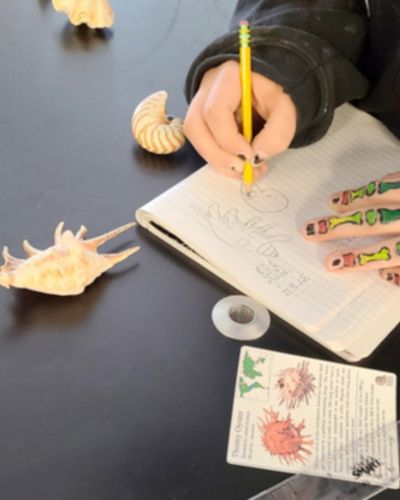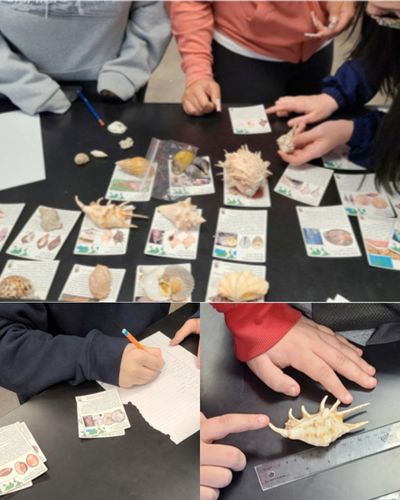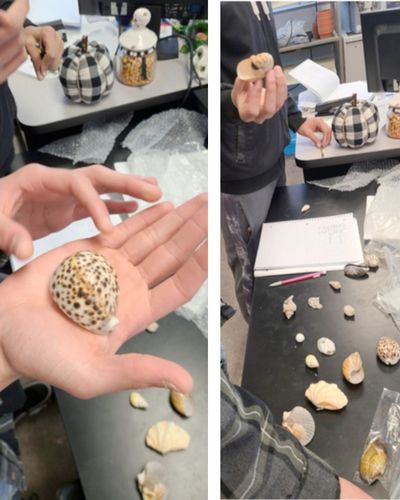 In July 2015, we had the idea of taking seashells to schools and share our fascination for them with students of all ages. The initial plan was to create a poster, take some selected shells and cards with information about them, and donate these packages to schools nationwide in the USA. The target were mainly 5 to 6 graders, the thought behind it is to have the kids fondle the shells, learn about shells, the animals that created them, their environments, and discuss threats and how all of us can contribute to their their protection and conservation.
Seven years have passed since, and the project is well on the way, run by our collaborator Lou Rundo from Ohio. Lou is preparing the collections, cards, and a classification lab instruction, example work products and other resources for teachers and students. The feedback from teachers is very positive and the Molluscan Science Foundation is proud to have this project in place, with an impact on the educational experiences and outcomes of many students.