Underwater photography
by Sven Kahlbrock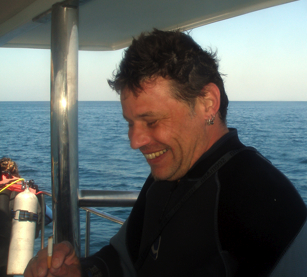 For more than two decades, Sven Kahlbrock has been working as a dive instructor and underwater photographer in the Red Sea. He is an important cooperator of the MSF, and was instrumental on the expeditions to the Red Sea (2009, 2010, 2011, 2014, 2018), and was a team member on the "Eastern Fields PNG 2012" and "St Brandon III 2013" expeditions.
He has been involved in the discovery of more than a dozen new species of gastropods, among them Archivolva kahlbrocki Lorenz 2009, Isoconus kahlbrocki Lorenz 2019, Aspella lorenzi Houart 2019, and the nudibranch Glossodoris kahlbrocki Yonow 2018.
Here we are showing some galleries with Sven's underwater photography of mollusks.
Nudibranchs from the Red Sea, the Oman, and other places
Compiled by Sven Kahlbrock and Dr. Felix Lorenz © Sven Kahlbrock 2020
Any reproduction of these images only with explicit permission by the copyright owner. Sven Kahlbrock can be contacted at [email protected]